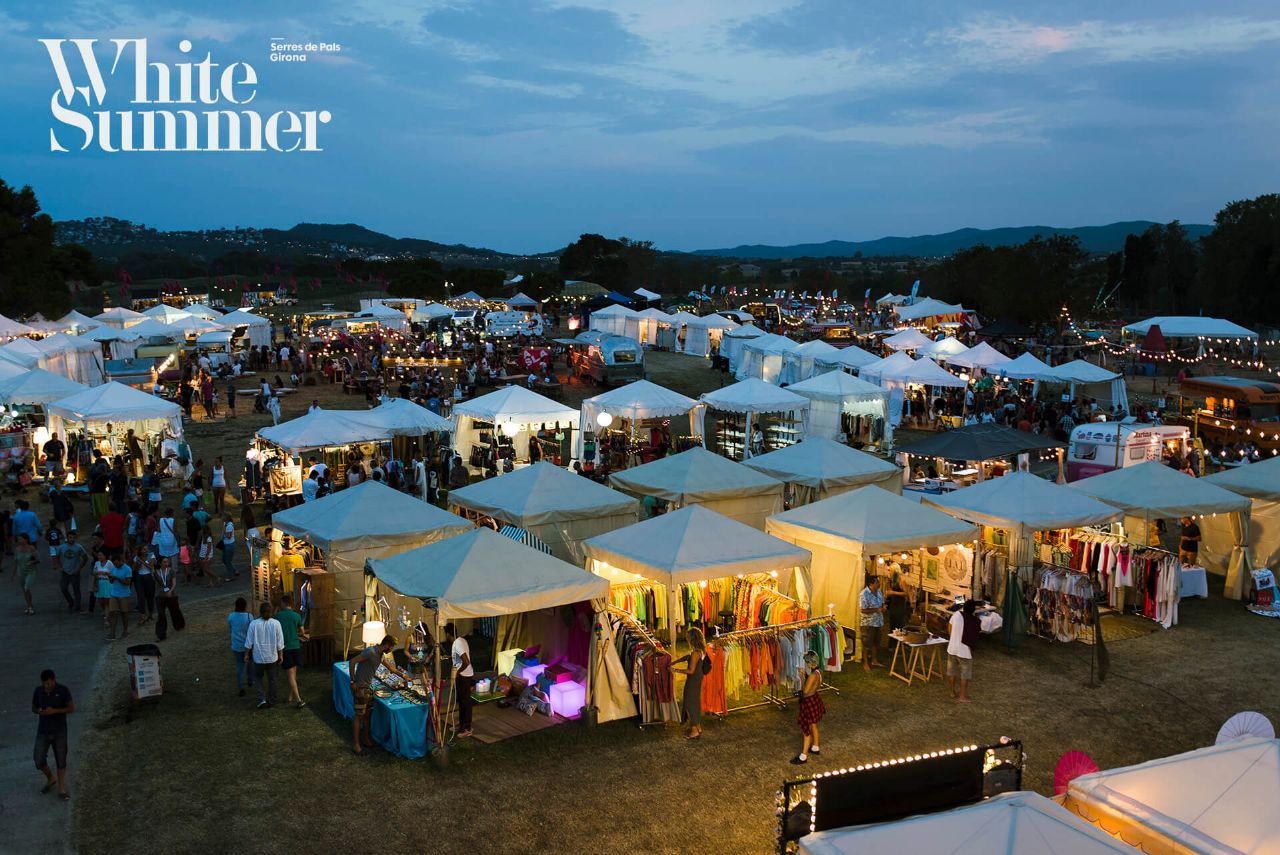 The best markets on the Costa Brava
What will the markets that we like so much have?
Especially when we talk about the Costa Brava markets. Markets that instead of markets seem like a party, but of all of them we have selected the 7 best. Those who in our view will not disappoint you if you visit them.
1. WHITE MARKET SUMMER IN PALS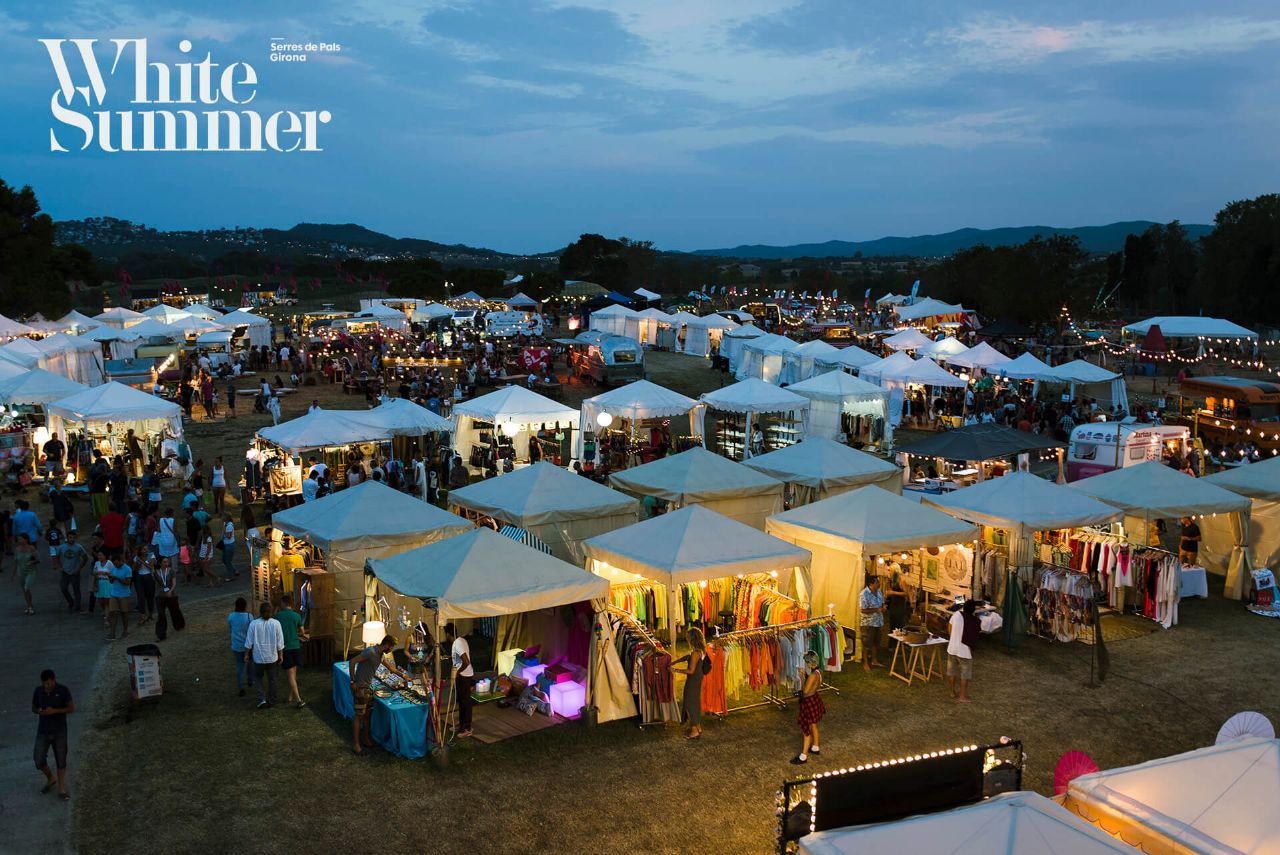 White Summer is a market different from the others. It is celebrated during most of the month of August in Serrels de Pals, an interior town of the Costa Brava a few kilometers from the Estartit and the Begur area.
It has a multitude of stalls of clothes, furniture, food and stops with handmade products.
It is perfect to spend a day in which you want to disconnect from the suffocating heat of summer or get away from the beach a bit.
Because we are sincere, the Costa Brava has a lot more than offering you part of the beach and the Sun.
This is surely the most beautiful craft market on the Costa Brava. A hippie market that you can't miss.
They even have a website dedicated to this market. Here you have it: https://pals.whitesummer.es/
2. LA SANTA MARKET IN SANTA CRISTINA DE ARO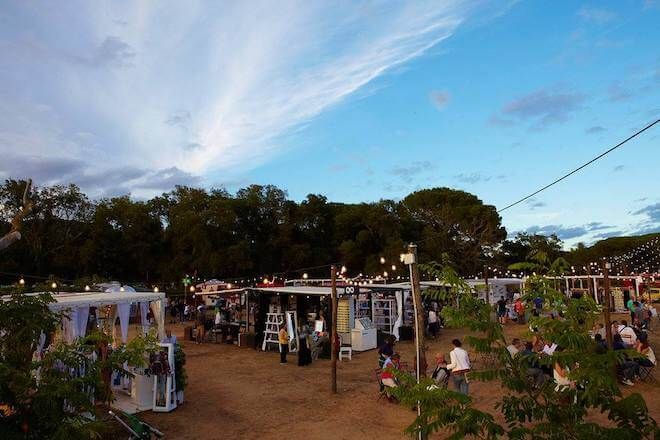 Very similar to the previous market, we have the Santa Market in Santa Cristina d'Aro. This is celebrated in the afternoon during halves of July and throughout August.
It is located between Playa de Aro and Llagostera, so it can be an interesting visit if you are in the area.
In it you will find handmade products, local cuisine, lots of nightlife and activities for the whole family. It is certainly a market that you can not miss on your vacation if you like music, crafts, fashion and art.
Here the website: https://www.lasantamarket.com/
If you are in Playa de Aro el Friday you can enjoy your weekly market in the morning. And if you are in July and August enjoy La Santa Market in the afternoon.
A good plan, don't you think?
3. LA RIBA MARKET NIGHT IN THE ESCALA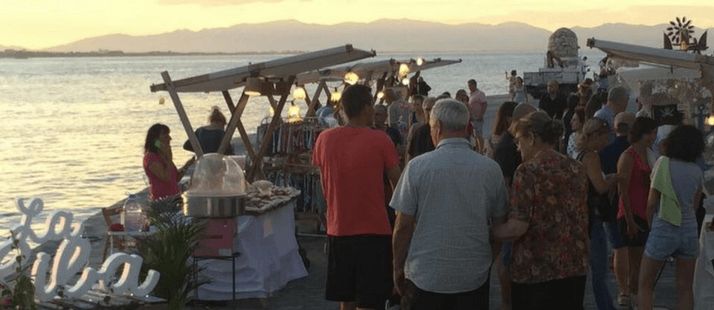 Something more classic but no less interesting is the market that is held every Wednesday during the summer months. The Riba Market Night of the Scale.
From 19 hours to 24 hours this special night market opens its doors where you will find local products, jewelry, fashion and accessories for everyone.
And a lot of tourist, that for granted. And is that the market during Wednesday is filled with tourists in search of an opportunity.
The best thing is that since last year the image of the market has improved greatly becoming a market much more in line with summer and the Costa Brava, with all the same stops and a very summery look.
If you pass by La Escala or are during your holidays nearby, do not miss the opportunity to spend Wednesday night at La Escala and enjoy one of the best sunsets on the Costa Brava while you go shopping for souvenirs and local products and artisans.
If you are only on Sunday on the scale you can also enjoy its weekly market. Perhaps one of the most interesting weekly markets of the Costa Brava.
4. Medieval MARKET IN Castelló DE Empúries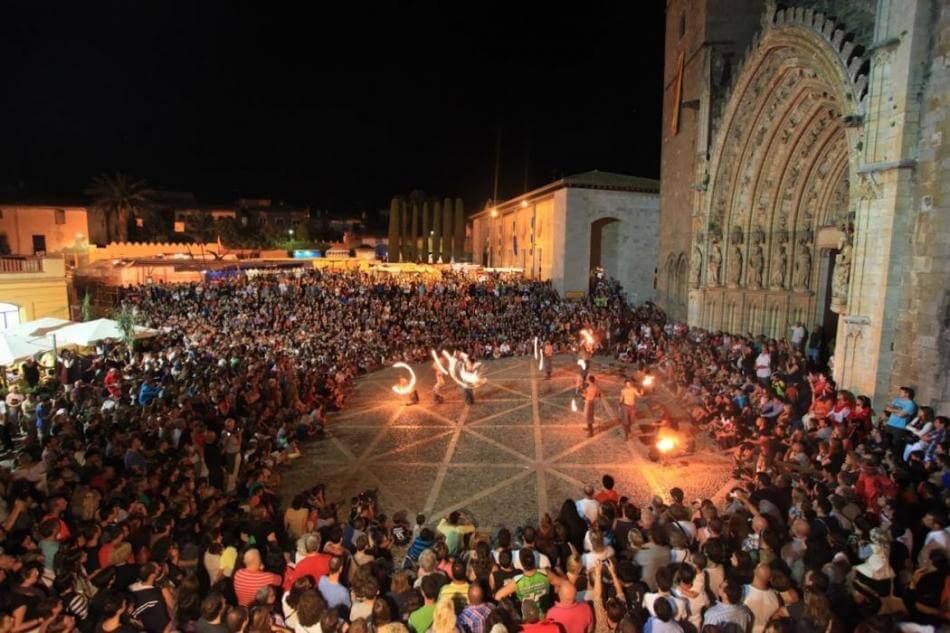 Take out your shield and sharpen the sword because in this market you will need it. More than a market, a festival called Terra de Trobadors Festival.
A spectacular market around the medieval world that teleports the entire population to the Middle Ages.
During the second half of September, a medieval market is held in Castellón de Ampurias, which is already part of the town's culture. Where every year hundreds of people disguise themselves as merchants and warriors.
During the day, next to the Cathedral, you will find a market with handicraft products, gastronomy, medieval products, figures and games for the smallest of the house to enjoy.
With all the people involved in this market, we consider it the most special of the entire Costa Brava.
The pity is that it is only celebrated for a few days a year in the month of September.
Here a little more information: http://www.terradetrobadors.com/
5. Roses MARKET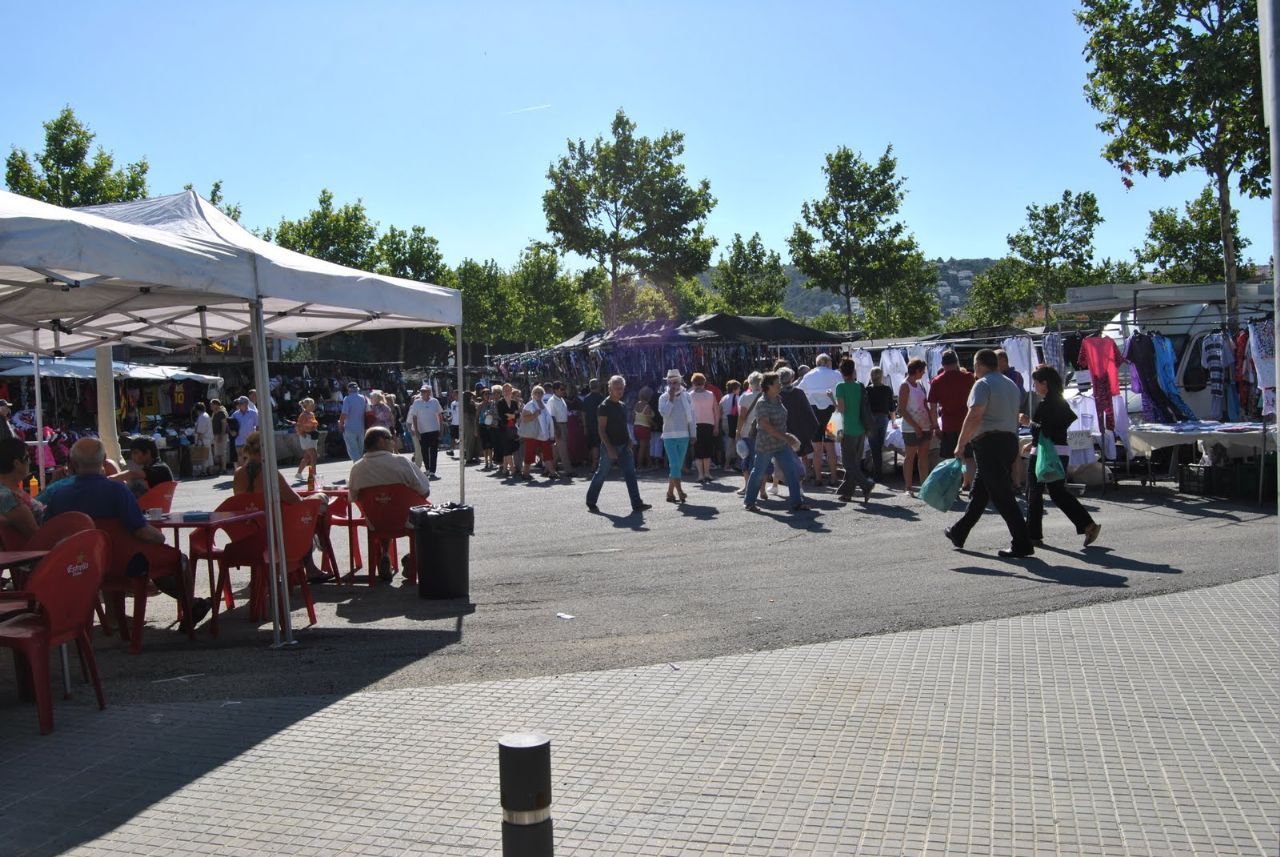 Sweeping a little home we present this weekly market that is held every Sunday of the year.
And this is one of the few that you will enjoy coming at the time you come. Although with a more everyday environment you will find especially clothes, local products and household products.
We stand out for its size, its good atmosphere and its location next to the sea.
If you want to know more about the Roses market, click here.
If you are looking to spend a few days in the area we recommend you visit our page of holiday apartments in Roses. 
6. NIGHT MARKETS IN COSTA BRAVA
Although the markets on the Costa Brava stand out mainly in summer, we cannot forget those Christmas markets that we like to visit so much.And in Costa Brava there are many beautiful markets to visit.
Here are a few Christmas markets on the Costa Brava that we are sure you will like:
- La Fira del Nadal in Sant Feliu de Guíxols. It is celebrated during a weekend in December. In it you will find artisan and Christmas products. It is located on the Rambla Antoni Vidal.
- Begur Christmas Market. Another interesting market in the center of Begur. In it you will find Christmas products, activities and workshops for the little ones of the family and handmade products. It is not the most spectacular of all, but it has its charm and is also celebrated during a few days in December.
- Christmas Market in Tossa de Mar. Another coastal town that gives us a beautiful market on the Paseo del Mar. Local and Christmas products, cooking workshops and tastings for 3 days at the beginning of December.
- Figueres Christmas Market. In the center of Figueres next to the clothing stores and bars of the main square we find a beautiful market with Christmas stalls, local food, games and inflatables. Even in specific moments you will find choirs singing the typical Christmas songs. Very lovely everything. It is celebrated on the Rambla de Figueres from the end of November to Christmas Eve.
OTHER MARKETS IN COSTA BRAVA
It would be unfair to put aside all those markets that you can find along the Costa Brava. Especially if there is one today and you don't know it. That's why we mention those main markets that you can enjoy week after week.
- Pals Market: It is held on Calle de l'Abeurador every Tuesday of the month.
- Figueres Market: It is held every Thursday near the Rambla. On the same day, the fruit and vegetable market is also celebrated in the Market Square of Figueres.
- Begur Market: It is held at Plaça de l'Esglèsia every Wednesday.
- Tossa de Mar Market: It is held every Thursday at Pau Casals Avenue in Tossa de Mar.
- Platja d'Aro Weekly Market: It is held every Friday in Carrer Ginesta.
- Empuriabrava Market: It is held every Saturday on the seafront. In summer at night you also have the Empuriabrava night market right there.
- Blanes Market: Every Monday on the seafront.
- Cadaqués Market: Every Monday in the Riera de Sant Vicenç. On Sunday you can enjoy an interesting antique market by the sea.
- Market of the Port de la Selva: It is celebrated on Friday in Av. Josep Vicenç Foix.
- Palamós Market: Every Tuesday at Av. De Catalunya.
- Sant Feliu de Guixols Market: Every Sunday at the Plaça del Mercat.
- Estartit Market: Every Thursday in Av. Roma.
- L'Escala Market: Every Sunday on the Paseo Marítimo.
- Girona Market: Every Tuesday and Saturday at the Devesa.
Sunday markets in Girona and the Costa Brava
Perhaps the most attractive day to visit a market, for its focus on tourists, is Sunday. That is why we want to conclude this article on Costa Brava markets by selecting those markets for Sundays:
- Anglès Market.
- Arbúcies Market.
- Breda market.
- La Jonquera Market.
- Santa Cristina d'Aro Market.
- Palafrugell Market. 
- Roses Market.
- Market of Sant Feliu de Guixols.
At the moment this is all. Do you think that one of the best markets in the Costa Brava is missing? If you liked it, share it!