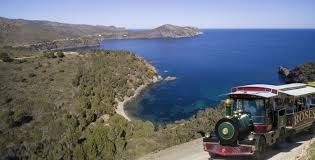 Visits and activities in Roses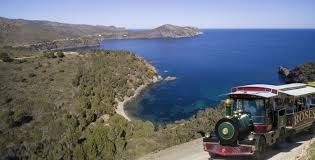 Roses in Spain is a very idyllic place located on the bay to which it gives its name with plenty of trips and entertainment activities for you. By that reason from ACP Immo Roses, we will recommend to you a series of places to visit with your family and friends and make your holiday in Costa Brava unforgettable.
Roses is much more than its beautiful beaches and we are officially inviting you to discover all the amazing opportunities you have. You ready?
6 activities in Roses you definitely have to undertake
ACP Immo Roses is presenting you five trips you definitely can´t skip during your holiday in Roses, Spain. Take the opportunity and prepare your towels, sun cream and umbrellas put the summer shoes and your favourite sunglasses and enjoy the exploration.
Roses tourist train
If you spend a couple of days in Roses you can´t miss the funny sound of the claxon of one of the most famous attractions in Roses- the touristic train. ACP Immo Rose highly recommend you that lovely train to your family, which will take you to the most emblematic places in the area.
The little train will drive you through many places such as Cala Joncols, El Puig Rom and Puig by little and interesting roads with beautiful views.
If you want to try that unforgettable experience on the web-page of tourist train you can find more information as well as to reserve your ticket
Keep in mind that in different periods of the year the tickets are limited.
Els Blaus de Roses
Maybe the name of the activity is not that clear for you but let us explain you in more details. The aim of the trip is to show the tourists one of the most spectacular areas such as Cap de Creus, Cadaques and Illes Medes.
The trip consists of walks along the beautiful Costa Brava, where you can swim, explore caves and observe the seabed as well as see a dolphin in its natural environment. And if you are lucky enough to be in Roses on 23rd of June you can observe the beautiful sunset and the fireworks of San Joan Festival from the sea. Can you imagine it? If you are interested in that trip in Roses you can have a look on the website of Els Blaus de Roses.
Choose from the plenty of the activities and book your seat before someone else to take it.
Castle of the Trinitat
If you go to the beach in Roses and look towards the sea, on your left you will see the Castle of Trinitat. There on the little mountain Puig Rom, covered with houses is situated The Castle of Trinitat, which controls everything that happens in Roses. The Castle of Trinitat is built in 1544 during the reign of Emperor Charles V.
There are no doubts that you have to visit the castle and you can reach to it for a half an hour if you walk through the port of Roses. Amazing view you definitely can't miss from whole the bay passing through Empuriabrava, The Escala and The Illes Medes. You can also find more information on their website: Castle of The Trinitat.
Or directly contact them on that phone number 972 25 24 00.
Escape Room Roses
Between so much Sun and walking, what better way than to live a different experience and meet one of the most peculiar characters in all of Roses, Mr. Jean Marc Marcus. Who will be waiting for you at his majestic banquet with surprises, many surprises.
A different Escape Room, with role-playing games and many surprises that we are sure you will enjoy with family and friends, because it is for all audiences.
If you like riddles and puzzles this is your place. It is open all year round, it rains, thunders or makes a sun that does not let you be in the street.
To book you can do so by entering the Escape Room Roses website. By the way, Mr. Jean Marc Marcus speaks English, so you can enjoy his presence without any problem.
Megalithic route of Roses
For this trip, you will definitely need your car because if you don´t have a vehicle will be kind of exhausting for you. We recommend you to drive to the parking, located on the way to Cala Joncols.
From there you can start climbing the Dolmen de la Creu de la Cobertella which dated between 3000 and 2700 a.c. On your walk, you can visit some interesting places such as the ruins of Casa Cremada, the dolmen of the Llit de la Generala and the Cap de l´Home.
Be prepared also for passing through some dirt roads, stone walls, and fields with cattle. The Megalithic route of Roses is an awesome place to take a few photos of you and your family during your morning or afternoon walk.
During full summer avoid to choose the sunniest hours as well as don´t forget to bring with you water and sun cream. If you are already interested in that trip, here ACP Immo Roses provides you more information about the Megalithic route of Roses.
Citadel of Roses
To have a good end of your holiday on a quiet route, but not less interesting offers you The Citadel of Roses. The Citadel is located at the entrance of the town, near to our real estate agency. It is impossible the big ancient walls to not catch your gaze when you entering through the Rhode Avenue.
This walled enclosure is part of the history of Roses town as well as became an essential excursion for tourists in order to inform them about the history of Roses. The wall is make by the Greeks and represents the Gothic style as you can find inside a museum with pieces from the different epochs.
If you are interested in visiting the Citadel of Roses, ACP Immo Roses provides you interesting information as well as the entry schedules. Web-site: Citadel of Roses.
ACP Immo Roses had the pleasure to provide you this interesting places for your holiday and as you can see there are plenty of activities you can undertake when you come to Roses, exploring the nature and the history of the town.